COMME des GARÇONS PLAY and Converse offered a first peek at their latest Chuck 70 collaboration featuring a new heart-with-eyes print. 🔥
Playing within the bounds of the Chuck 70 Hi and Chuck 70 Low's usual black/sail and sail/black colorway, this latest release features CDG's signature sly heart logo more prominently than ever before.
Both pair's canvas upper is dressed in an all-over print with one fully red heart sitting in the biggest material area on the outside of the shoe. These hearts are surrounded by numerous outlined hearts across the heel and forefoot. On the black pairs, the illustrations are white, and on the sail pairs, they're black.
https://www.instagram.com/p/B_RAPSsAZ_i/
There's also a fabric heel stripe matching the secondary color of each pair, adding a nice anchor to balance out the overall color scheme. On the inside of the Hi, at the same level as the red heart on the opposite side, Converse added its classic circle-and-star logo.
Midsoles and toe caps remain totally plain on both looks and rubber outsoles act as the sneakers' most solid protection.
Earlier this month, the two brands debuted a minimalist and more colorful collection of their Chuck 70 kicks – "Bright Green," "Bright Blue" and "Bright Pink" – fitting for the spring and summer.
[caption id="" align="alignnone" width="800"]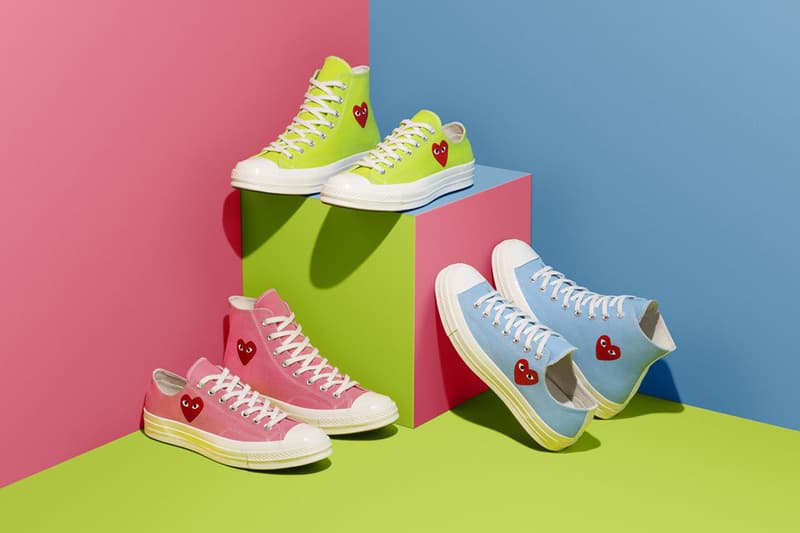 Image via Hypebeast & Dover Street Market[/caption]
CDG and Converse have been working together for several years, initially joining forces in 2015 to splatter CDG's heart design across Converse's Leather Pro model shoe. With this latest collaboration, the heart is captured as an outline instead of filled for the first time ever.
You can find all four of these forthcoming Chucks on the Dover Street Market Ginza site starting Wednesday, April 29. Retail prices haven't been made public yet.
Pop around the entire release below to decide which one is your favorite. ❤️
[caption id="" align="alignnone" width="1280"]
Image via Hypebeast & Dover Street Market[/caption]
[caption id="" align="alignnone" width="1280"]
Image via Hypebeast & Dover Street Market[/caption]
[caption id="" align="alignnone" width="1280"]
Image via Hypebeast & Dover Street Market[/caption]
[caption id="" align="alignnone" width="1280"]
Image via Hypebeast & Dover Street Market[/caption]
[caption id="" align="alignnone" width="1280"]
Image via Hypebeast & Dover Street Market[/caption]
[caption id="" align="alignnone" width="1280"]
Image via Hypebeast & Dover Street Market[/caption]
[caption id="" align="alignnone" width="1280"]
Image via Hypebeast & Dover Street Market[/caption]
[caption id="" align="alignnone" width="1280"]
Image via Hypebeast & Dover Street Market[/caption]
[caption id="" align="alignnone" width="1280"]
Image via Hypebeast & Dover Street Market[/caption]
[caption id="" align="alignnone" width="1280"]
Image via Hypebeast & Dover Street Market[/caption]
[caption id="" align="alignnone" width="1280"]
Image via Hypebeast & Dover Street Market[/caption]