What better news to cover while in quarantine than the latest update on Playboi Carti's highly highly highly anticipated sophomore album, Whole Lotta Red?
On Thursday, Carti emerged from the shadows of Atlanta to post on Instagram for the first time in two and a half months. With a straight face and countless diamond encrusted tennis necklaces illuminated by a faint red light, Carti captioned the subtle photo, "u n meh ."
https://www.instagram.com/p/B98Cx_ogOZt/
While nearly 53,000 comments poured in across 24 hours, including one from DJ Akademiks that read, "Uzi we found him," addressing a recent tweet from Lil Uzi that he didn't know where Carti was, there was one that caught Carti's attention.
A young fan going by @playboicorty (🔥 @ btw) shared his desperation for the 23-year-old rapper to put out new music. "Carti listen you have disappointed us many times with this album release and we still worship you. We are in fucking quarantine rn. Plz bless us," he wrote.
Carti then shared a few thoughts in response. "i never left," he wrote. "hey . stay wit meh . I o you da world n i kno it . I love u n everyone . N my universe <3."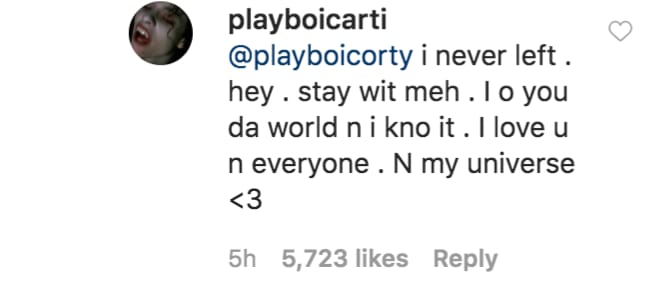 Though he didn't offer any real insight on timing, it sounds like Carti understands his fans' intense eagerness and wants to make us proud.
The most recent hints about WLR came during a rare interview at a streetwear store in Sydney at the start of 2020. Carti claimed he's constantly working with different producers and changing his mind about what sounds best, which explains the absence of new music. "I'm with a different producer every day," he said. "And it's like, damn this the sound right here. [laughs]"
After talking a little about the vibe of WLR, noting that he's trying to prove he can really rap, Carti is asked when fans can expect the album. After a brief moment of deliberation, he gives his answer. "This year, 2020," he said. "Of course. I'm ready – I'm more ready than y'all."
Previously, Carti led fans to believe WLR was coming in fall 2019, posting a couple of promising messages on IG after staying silent for a long time. He wrote, "him <3 red incoming .," followed a day later by "<48hours! locked in."
Yet as quickly as he created a stir, he left in silence.
https://www.instagram.com/p/B3pVvh4grXp/
https://www.instagram.com/p/B3sJyVvApNL/
Whenever Carti ends up dropping, there's also a chance Uzi will follow suit. He recently tweeted, "Soon as HE drop imma drop again," possibly referring to his long-lost friend and collaborator.
Whole Lotta Red gotta have some big heat! 🔴