Kanye West can't stop sparking drama. 😩
Yeezy made headlines over the weekend when he tweeted and deleted the potential tracklist for his next album, DONDA, as well as the release date of this Friday, July 24.
Named after his late mother, Ye recently shared a track with the same title that finds Donda West reciting the lyrics to KRS-One's "Sound of Da Police" over a soulful sample before Kanye enters with a verse.
"Momma, I need you to tuck me in / I done made some mistakes and they rubbed it in / I know you and grandma had enough for them / Why I gotta be so stubborn then?" Kanye muses.
You may recall that several weeks ago, Kanye teased his first Dr. Dre-produced project, God's Country, and followed with the single "Wash Us In The Blood," which appears on the DONDA tracklist.
Another song in the group that's recognizable is "New Body," a previously leaked collab with Ty Dolla $ign and Nicki Minaj. Commenting on an IG Live session in early June, Nicki revealed they "shot a whole music video to this song."
"Ok let me hit 'Ye about 'New Body' I see y'all asking," she wrote.
However, it was reported on Sunday that Kanye suddenly removed Nicki's verse, leading the Barbz to go off on the trending topic via Twitter.
But Yeezy had other events to worry about that day, as he apparently hosted a rally for his erratic presidential campaign in Charleston, South Carolina.
With the header, "Please Place Me On The South Carolina Ballot," the digital flyer for the event requests that all registered guests wear masks and keep social distancing in mind.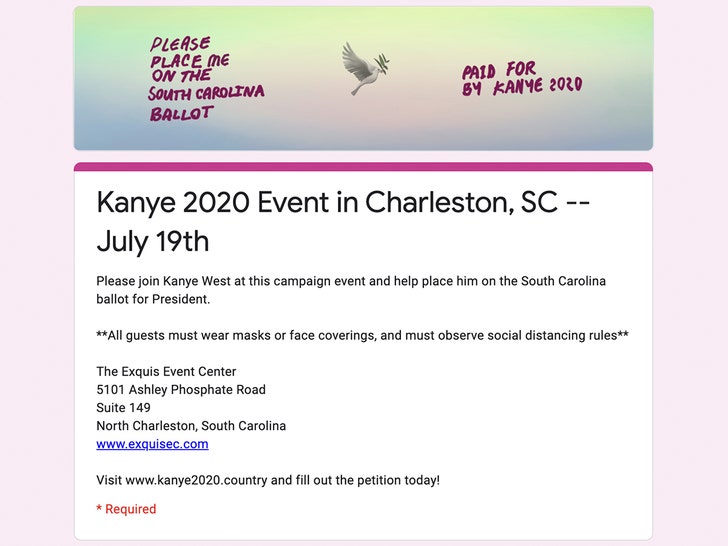 Ye also launched a petition to place him on the state's ballot. He's really going for this whole White House thing, huh?